"The meaning of life is to find your gift. The purpose of life is to give it away."
― William Shakespeare
---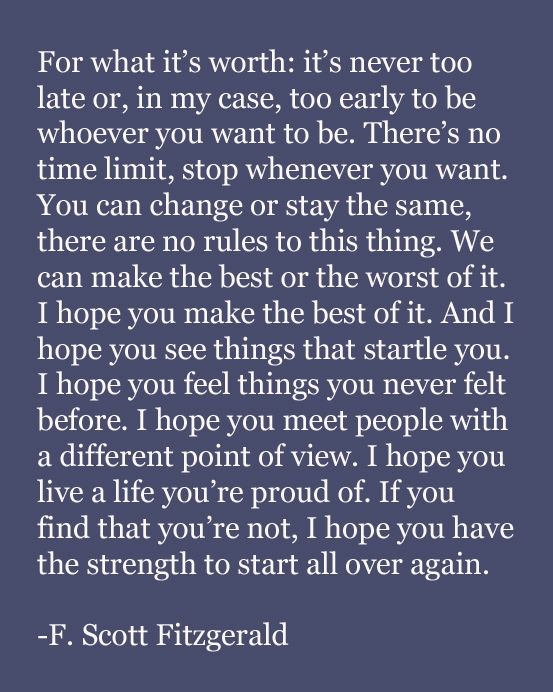 "For what it's worth: it's never too late or, in my case, too early to be whoever you want to be. There's no time limit, stop whenever you want. You can change or stay the same, there are no rules to this thing. We can make the best or the worst of it. I hope you make the best of it. And I hope you see things that startle you. I hope you feel things you never felt before. I hope you meet people with a different point of view. I hope you live a life you're proud of. If you find that you're not, I hope you have the strength to start all over again."
― F. Scott Fitzgerald
---
"Do not chase people. Work hard and be you. The right people who belong in your life will come find you and stay. Do your thing."
---
"Sometimes I pretend to be normal. But it gets boring. So I go back to being me."
---
From the Very Wise Dr. Seuss…
"Today you are YOU. That is TRUER than true. There is NO ONE alive who is YOUER than YOU!"
"Why fit in when you were born to stand out?"
"You have brains in your head. You have feet in your shoes. You can steer yourself in any direction you choose!"
"Be who you are and say what you feel because those who mind don't matter and those who matter don't mind."
---
"When it comes time to die, let us not discover that we have never lived."
― Henry David Thoreau
---
"Never get so busy making a living that you forget to make a life."
---
"Each man had only one genuine vocation – to find the way to himself….His task was to discover his own destiny – not an arbitrary one – and to live it out wholly and resolutely within himself. Everything else was only a would-be existence, an attempt at evasion, a flight back to the ideals of the masses, conformity and fear of one's own inwardness."
---
"To be yourself in a world that is constantly trying to make you something else is the greatest accomplishment."
― Ralph Waldo Emerson
---
"The two most important days in your life are the day you are born, and the day you find out why."
― Mark Twain
---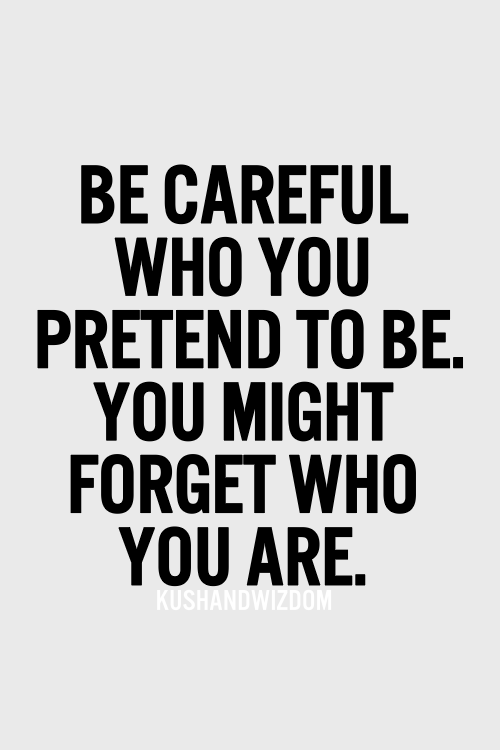 ---
"Your time is limited, so don't waste it living someone else's life. Don't be trapped by dogma – which is living with the results of other people's thinking. Don't let the noise of others' opinions drown out your own inner voice. And most importantly, have the courage to follow your heart and intuition. They somehow already know what you truly want to become. Everything else is secondary."
― Steve Jobs
---
"It takes nothing to join the crowd. It takes everything to stand alone."
― Hans F Hansen
---
"Sometimes I have to remind myself that I don't have to do what everyone else is doing."
---
"He who has a why to live can bear almost any how."
― Friedrich Nietzsche
---
Words from George Bernard Shaw
"This is the true joy in life, the being used for a purpose recognized by yourself as a mighty one; the being a force of nature instead of a feverish, selfish little clod of ailments and grievances complaining that the world will not devote itself to making you happy.

I am of the opinion that my life belongs to the whole community, and as long as I live it is my privilege to do for it whatever I can.

I want to be thoroughly used up when I die, for the harder I work the more I live. I rejoice in life for its own sake. Life is no "brief candle" for me. It is a sort of splendid torch which I have got hold of for the moment, and I want to make it burn as brightly as possible before handing it on to future generations."
"Life isn't about finding yourself. Life is about creating yourself."
---
Two roads diverged in a yellow wood,
And sorry I could not travel both
And be one traveler, long I stood
And looked down one as far as I could
To where it bent in the undergrowth;
Then took the other, as just as fair,
And having perhaps the better claim,
Because it was grassy and wanted wear;
Though as for that the passing there
Had worn them really about the same,
And both that morning equally lay
In leaves no step had trodden black.
Oh, I kept the first for another day!
Yet knowing how way leads on to way,
I doubted if I should ever come back.
I shall be telling this with a sigh
Somewhere ages and ages hence:
Two roads diverged in a wood, and I—
I took the one less traveled by,
And that has made all the difference.
---
One day, Alice came to a fork in the road and saw a Cheshire cat in a tree.
"Which road do I take?" she asked.
"Where do you want to go?" was his response.
"I don't know," Alice answered.
"Then," said the cat, "it doesn't matter."
― from Lewis Carroll's Alice's Adventures in Wonderland
---
"To know what you prefer instead of humbly saying Amen to what the world tells you you ought to prefer, is to have kept your soul alive."
― Robert Louis Stevenson
---
"Every time you don't follow your inner guidance, you feel a loss of energy, loss of power, a sense of spiritual deadness."
---
"Learn to get in touch with the silence within yourself and know that everything in this life has a purpose."
― Elisabeth Kübler-Ross
---
"Since you are like no other being ever created since the beginning of time, you are incomparable."
― Brenda Ueland
---
"There is a vitality. a life force, an energy, a quickening, that is translated through you into action, and because there is only one of you in all time, this expression is unique. And if you block it, it will never exist through any other medium and will be lost."
― Martha Graham
---
"To thine own self be true."
― Shakespeare
---
"…there are no shortcuts to excellence. Developing real expertise, figuring out really hard problems, it all takes time―longer than most people imagine….you've got to apply those skills and produce goods or services that are valuable to people….Grit is about working on something you care about so much that you're willing to stay loyal to it…it's doing what you love, but not just falling in love―staying in love."
― Angela Duckworth, GRIT
---
"Often people attempt to live their lives backwards: they try to have more things, or more money, in order to do more of what they want so that they will be happier. The way it actually works is the reverse. You must first be who you really are, then, do what you need to do,  in order to have what you want."
― Margaret Young
---
"Follow your bliss and doors will open where there were no doors before."
― Joseph Campbell
---
"There is a path for each of us. When we are on our right path, we have a surefootedness. We know the next right action―Although not necessarily what is just around the bend."
― Julia Cameron
---
"The purpose of life is to know, and to recreate, Who You Are."
― Neale Donald Walsch
---
"Life is raw material. We are artisans. We can sculpt our existence into something beautiful, or debase it into ugliness. It's in our hands."
― Cathy Better
---
"Whatever you are, be a good one"
― Abraham Lincoln
---
"I wish I'd had the courage to live a life true to myself, not the life others expected of me."
― The number one regret of the dying, reported by a palliative nurse in The Guardian
---
"Remind yourself. Nobody built like you. You design yourself."
― Jay Z
---
"When someone says: "So what's next?" As in, "how are you going to top that?" You don't have to have an answer. The answer can be: "This." Your life doesn't have to be about impressing other people or a successive series of achievements."
---
"The privilege of a lifetime is to become who you truly are."
— C.G. Jung
---
"There is nothing more satisfying than being loved for who you are and nothing more painful than being loved for who you're not but pretending to be."
— Neil Pasricha, The Happiness Equation
---
"Happiness is when what you think, what you say, and what you do are in harmony."
— Gandhi
---
"If―" by Rudyard Kipling
If you can keep your head when all about you
Are losing theirs and blaming it on you,
If you can trust yourself when all men doubt you,
But make allowance for their doubting too;
If you can wait and not be tired by waiting,
Or being lied about, don't deal in lies,
Or being hated, don't give way to hating,
And yet don't look too good, nor talk too wise:
If you can dream―and not make dreams your master;
If you can think―and not make thoughts your aim;
If you can meet with Triumph or Disaster
And treat those two impostors just the same;
If you can bear to hear the truth you've spoken
Twisted by knaves to make a trap for fools,
Or watch the things you gave your life to, broken,
And stoop and build 'em up with worn out tools:
If you can make one heap of all your winnings
And risk it on one turn of pitch-and-toss,
And lose, and start again at your beginnings
And never breathe a word about your loss;
If you can force your heart and nerve and sinew
To serve your turn long after they are gone,
And so hold on when there is nothing in you
Except the Will which says to them: "Hold on!"
If you can talk with crowds and keep your virtue,
Or walk with Kings―nor lose the common touch,
If neither foes nor loving friends can hurt you,
If all men count with you, but none too much;
If you can fill the unforgiving minute
With sixty seconds' worth of distance run,
Yours is the Earth and everything that's in it,
And―which is more―you'll be a Man, my son!
---
"According to Berkeley sociologist Arlie Hochschild, if you're feeling an intense emotion like anxiety or anger, there are two ways to manage it: surface acting or deep acting. Surface acting involves putting on a mask–modifying your speech, gestures, and expressions to present yourself as unfazed…In deep acting, known as method acting in the theater world, you actually become the character you wish to portray. Deep acting involves changing your inner feelings, not just your outer expressions of them…Deep acting turns out to be a more sustainable strategy for managing emotions than surface acting. Research shows that surface acting burns us out: Faking emotions that we don't really feel is both stressful and exhausting. If we want to express a set of emotions, we need to actually experience them."
– Adam Grant, "Originals"
---
---
---
---
---