I was still living in Japan at the time (circa 1997) the web really started to take off. Caro and I were only dating then, but she saw my interest and bought us our first laptop. It was an early Mac Book and the screen was only black and white but we got it at a decent price ($1000 USD factoring in the dollar/yen exchange rate). That's how it began. I got sucked into everything Internet.
So much about the Internet was exploding with potential. Living abroad, the whole concept of email was wonderful – no long time gaps between writing letters and receiving responses. It felt so instant. The only challenge was that not everyone was using email yet. I spent so much time playing around with this new tech toy, everything from learning design software to surfing the nascent web. I stumbled upon GeoCities, a web hosting service that gave people online tools to create their own website. It was exciting to think you could create something multimedia and then immediately publish it for others to see.
My first site was based on a theme I called "Spheres and Cones." Basically it was model I used to frame the idea of self-actualization and personal growth. My friend, Scott Scholtens, also bought a laptop and he was better at the design thing than I was, so he helped me created a logo and other graphics for the site. Fond memories of the early days when I didn't care so much about how good (or not so good) my web design skills were.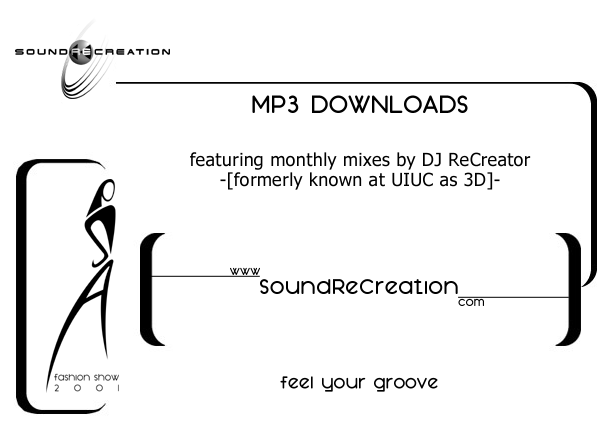 After returning to the States, I continued web design and tried to take it to the next level. The next stage involved using websites to support my entrepreneur initiatives. While working retail, I spent my other time trying to build out concepts for a mobile DJ business which I called Sound ReCreation. I wanted to go all in so I formally incorporated the business and bought the domain name. Sound ReCreation, Inc. was an S corporation (Delaware) with the website www.SoundReCreation.com. It started with the conventional content (About Us, Contact, Services, Pricing etc.) then I tried to add song lists, music clips, PDF client forms, and a page for partners and related vendors. I've lost many of the original image files, but here's any idea of the logo and site layout. I found an ad we placed for a University Fashion Show Program.
Credits for the logo and site design go to Tommy Torres, my lifelong friend whom I grew up just referring to as "cousin" though we're not technically related.
Actually, I forgot to check the Internet Archives. WayBack Machine had some site pages archived. Here's a capture from December 26, 2002 (Wow! Did I really write that content for our About Us page? Weird reading it after all these years)…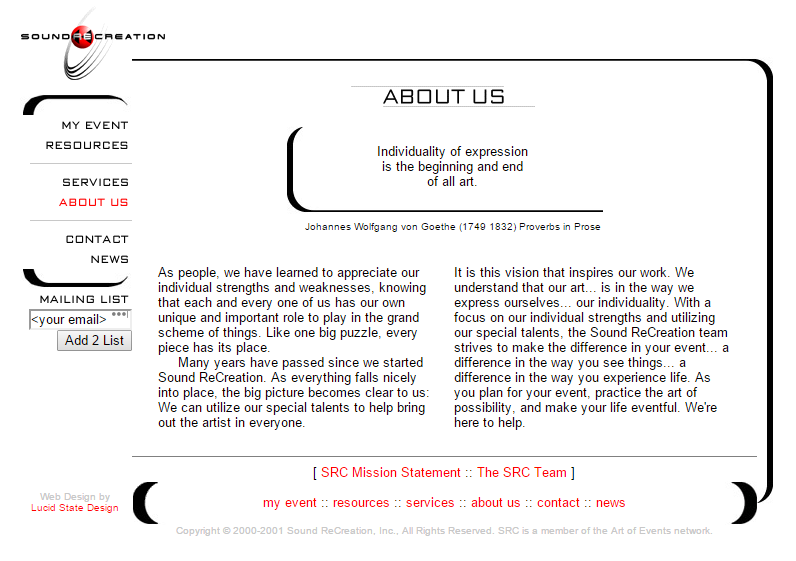 As Sound ReCreation evolved, I learned that the money was in DJing weddings so I focused on acquiring clients for weddings over other types of events. Eventually, my "Partner" page of the site expanded to a point where I decided to break out vendors into categories, such as Chicago Wedding Photographers, with a dedicated page for each category. Using what I learned from self-study plus trial and error, I optimized each category page for the search engines. Over time, the site analytics showed that the most visited pages of SoundReCreation.com were the wedding vendor category pages. Local wedding professionals started contacting us asking if they could pay to have their business included on our pages. They too noticed our high search rankings and decided it was better to pay us than figure out the SEO thing themselves. That's when I had the idea to buy a new domain name so these pages could spin off into something new…ChicagoWeddingServices.com. (I went ahead and bought ChicagoWeddingDJ.com as well. I was surprised it was still available.)
I had a feeling that these SEO friendly domain names could piggyback off the success I already had with the SRC vendor pages. I was right. ChicagoWeddingServices.com and ChicagoWeddingDJ.com started showing up in the top 3, if not number one, of the organic search results for many relevant search queries. Any time someone searched for something like "wedding reception venues in Chicago," or something local and wedding related, we would come up. Call it dumb luck or whatever, but I accidentally became good at SEO when the search engine algorithms were not yet as sophisticated as they are today. That luck lasted several years until about 2005 I think. Google had a major algorithm update and I finally fell from grace with Google. Traffic died and today is less than a hundred visitors each day. It was great while it lasted.
While I was tempted to sell the domain and give up on the site as a business, I've kept it and tried to update it enough so it isn't as terribly dated as the original design that was not mobile friendly. Last year, I finally had the time to complete a redesign that was years in the making. It was DIY since it made no financial sense to pour more money into a site that no longer made any profits. I used the opportunity to play around with responsive design and CSS. This is how it looks now on Desktop and Mobile: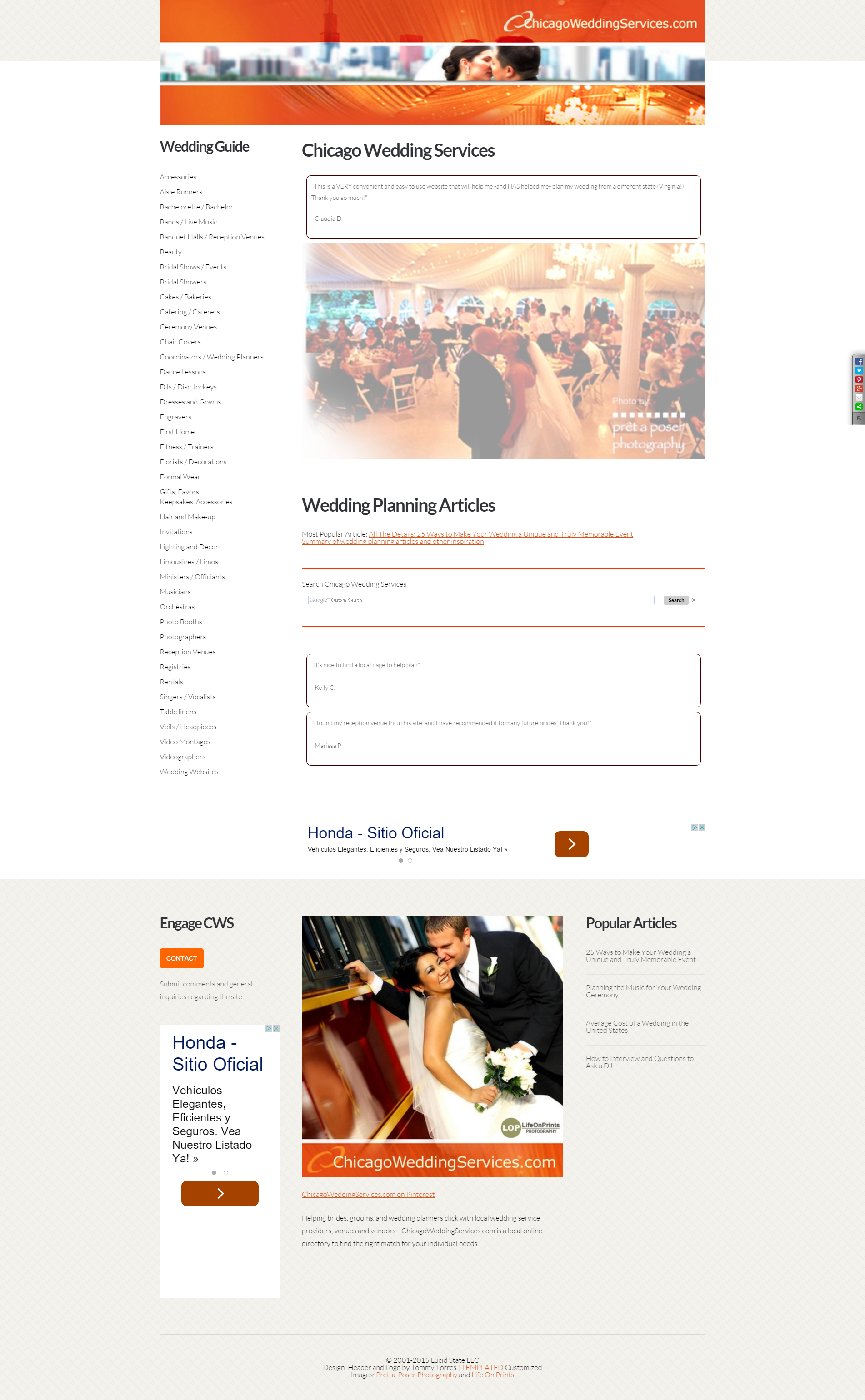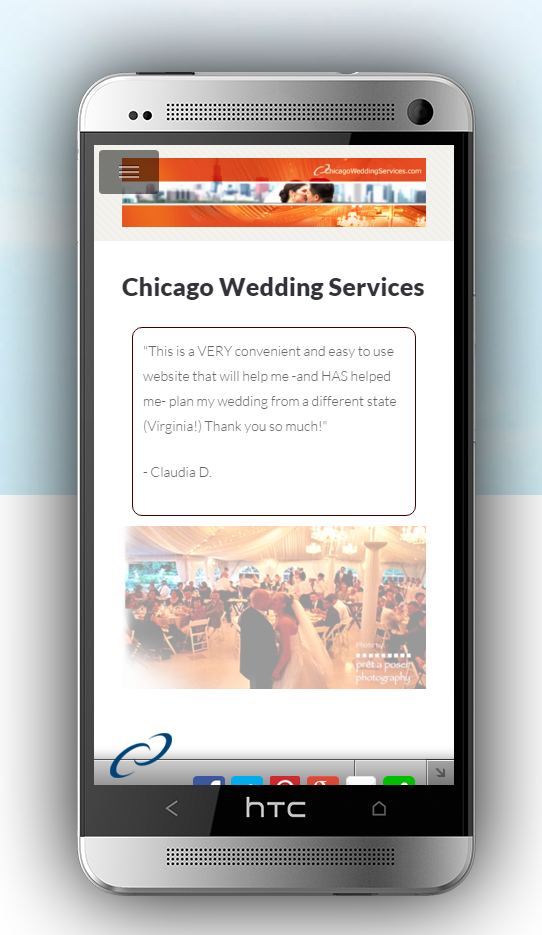 ---
Lately, I haven't spent much time on any new websites. That said, a month or so ago I agreed to help out the Boy Scouts Troop that my son León is a part of. They wanted to put up a website that they could leverage for recruiting new Scouts in the area so my wife and I bought troop23nocatee.com and I quickly put together a WordPress site hosted on my existing web server. The template is simple so it can be consistent with the printed flier they made for recruiting.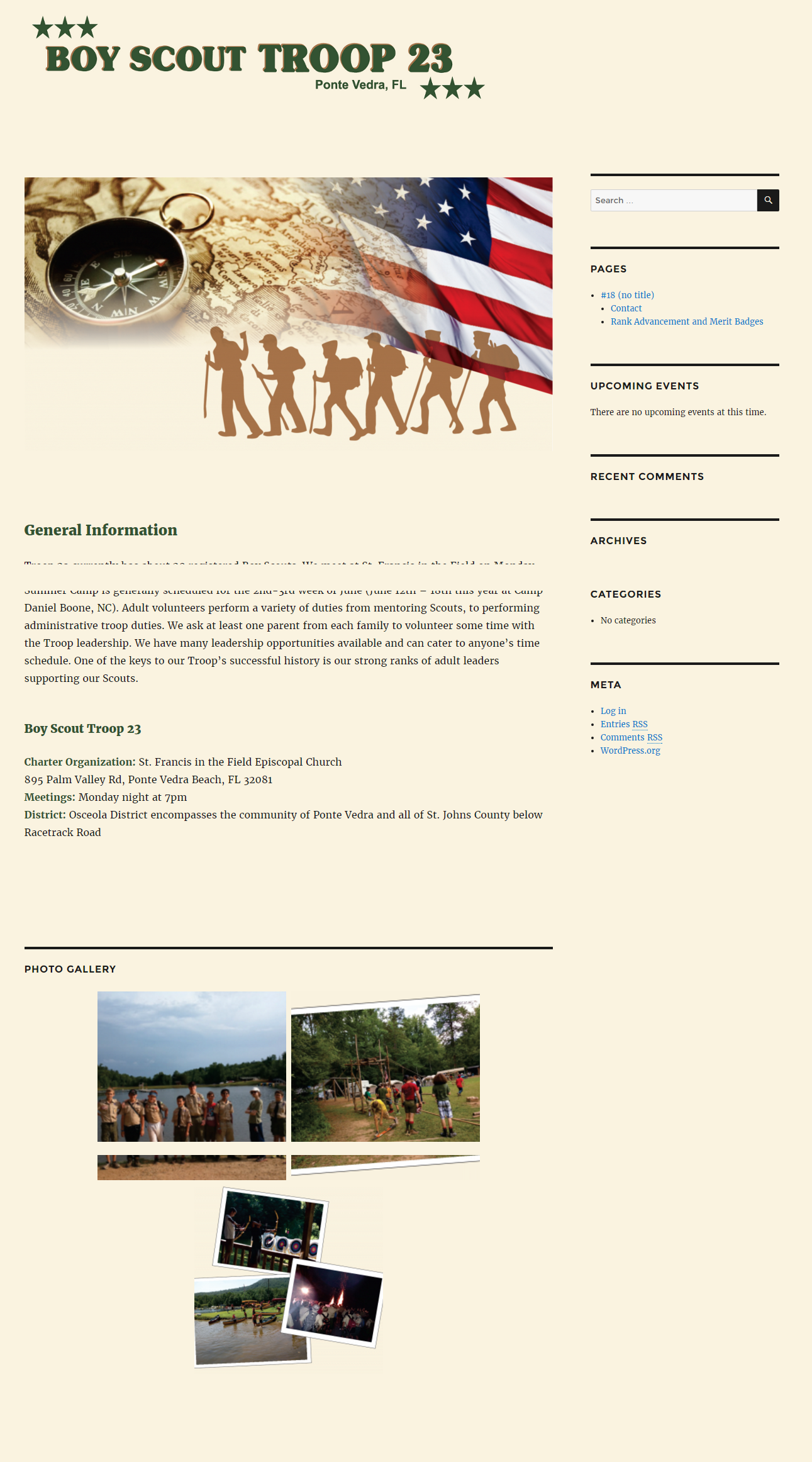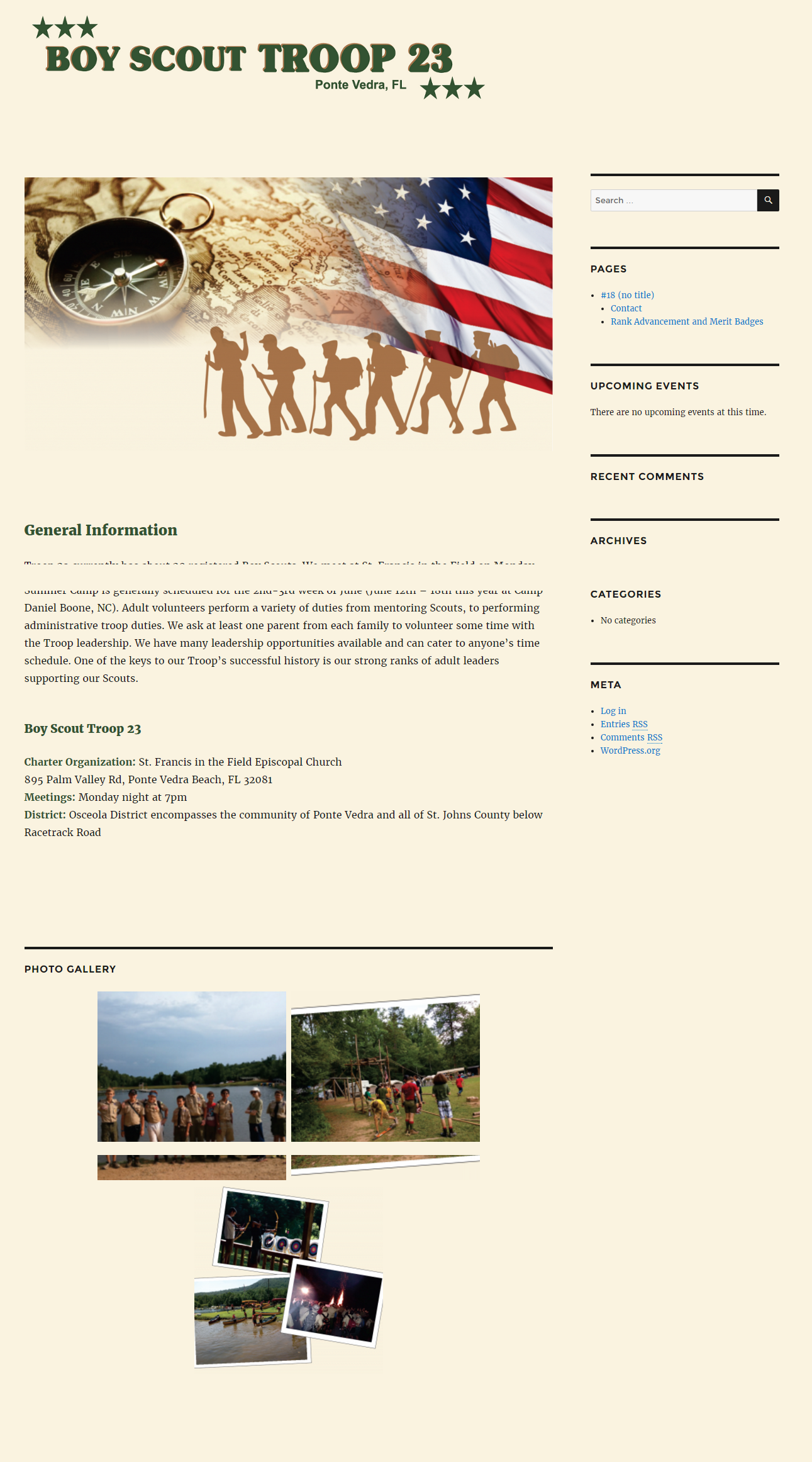 ---
[Update 2/18/2016]
A few years back, I was overzealous and bought quite a few domains with the intention of monetizing them somehow. Most of them have just been parked yet I renew them every year, hopeful that I'll eventually do something with them. Perhaps I'll put them on the market and see if I can recoup some of my expenses. Most likely I'll just let them expire so someone else may run with them.
I'll list the domains here and if anyone has ideas and wants to partner on a project with any of these domain names, please get in touch.
Domains:
cityweddingphotographers.com
citywebmarketing.com
cityweddingservices.com
wedding-alliance.com
cityweddinginfo.com
cityweddingdresses.com
cityweddingplanning.com
cityweddingsites.com
cityweddingvenues.com
chicagoweddingmarket.com
cityweddingentertainment.com
cityweddingdjs.com
cityweddingmarket.com
The original intention was to spin off more targeted sites for specific services and/or cities. For example, cityweddingphotographers.com could have any number of subdomains for each city. NewYork.CityWeddingPhotographers.com would target photographers and their potential clients in the New York City area. Once upon a time, these niche sites would outrank the larger sites such as TheKnot.com. That's how ChicagoWeddingServices.com took off. Advertisers on CWS would tell me that they got better traffic and more bookings from our site, and it didn't cost as much to advertise with CWS. Nowadays, it will take a different approach to succeed. I have ideas but the time and effort needed is substantial (team of freelancers?). Collaboration seems to be the better option. If you're interested in batting around some ideas, please mention that in a comment to this post and I'll be in touch via email.